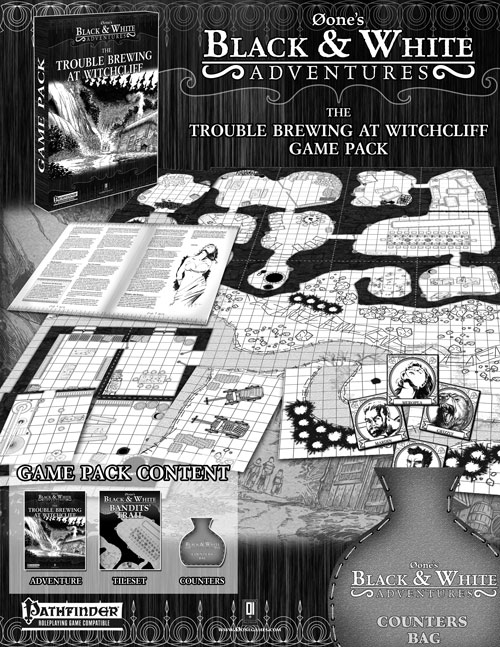 Looks lovely doesn't it? Me wants! Me wants!
Looks like it only uses black ink as well - "old school" and cheap ink cartridge = double-plus win!
Trouble Brewing at Witchcliff at DriveThruRPG
$6.98 /
€4,88 /
£4.23
(Featured as Sean's Pick of the Day on DriveThru/Fb page)
Edit: Just bought it and am printing bits out - lots of fun putting it together. The only downside is that the margins might be too narrow for some printers - but since all the pages fill the same width page "scaling" will be uniform across the pack, i.e. the grid will still match up. Naturally there's a lot of black ink involved, but the final effect is worth it, also you get to save on colour cartridges! The scenario is larger than expected: 20 pages of Pathfinder compatible adventure (will also work with D&D 3.5). The counters are a nice optional touch - some with art, many blank - with a 2D counters bag as well.
Just add some 6th-7th level characters and Pathfinder (or d20/D&D 3-3.5) rules and you have a complete immersive tabletop gaming experience, similar to any "out of the box" game currently on sale.
Excellent!